WEBINAR: WHO WOULDN'T WANT double digit response rates?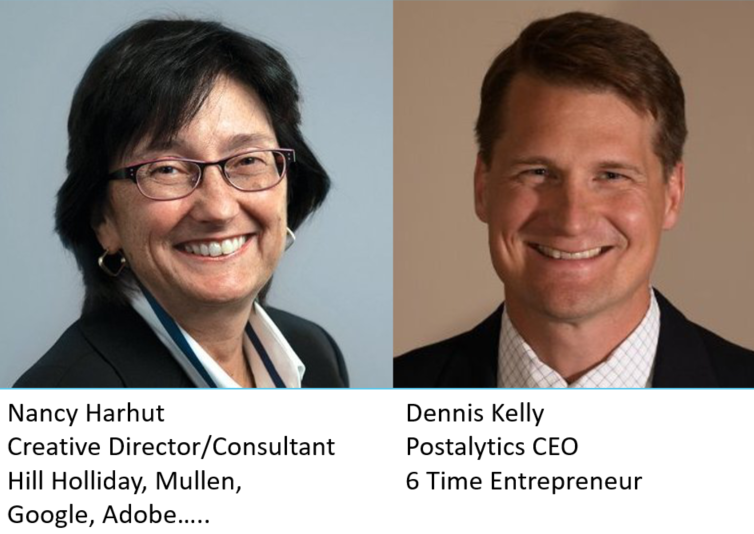 *** BONUS *** All registrants receive nancy's CLIENT workflows and 3 lucky people will win a $200 DIRECT MAIL Postalytics credit!
Nancy's workflows are usually only given to paying clients. These workflows give you the tactics you can implement right away that increase response rates.
ABOUT THE WEBINAR
Today's marketer has more options than ever to reach target audiences. Yet it has never been harder to earn attention and engagement. What's a marketer to do?
Join Nancy Harhut and Dennis Kelly on December 13th 2017 at 1PM EST to learn how adding direct mail to email campaigns makes good economic sense. Nancy & Dennis will present real world use cases along with research such as:
How using Direct Mail in conjunction with email results in an up to a 35% lift over a single channel – IWCO

How sending direct mail after email increases effectiveness by 40% - Canada Post

How 57% of millennials have made purchases based on direct mail offers – USPS
Can't make the live webinar? Don't worry, register and we will send you the full recording and Nancy's workflows.
About Nancy: World renowned Creative Director. Nancy has held leadership positions at Mullen, Hill Holliday. Nancy has worked with leading brands including Google, Adobe, McGraw-Hill, Nationwide Insurance, Eaton Vance, Great-West Financial, HP, TripAdvisor, BostonGlobe.com, UnitedHealthcare.
About Dennis: Dennis is CEO of Postalytics - the leading all-in-one direct mail automation tool.